Photo Scanning and Video Transfer Services
Digitally Remastered
America's Most Advanced Digitizing Service
Introducing...
The Digmypics Smart Scanner
We're bringing Computational Photography and AI to save decades old photos
We brought together our team of engineers and graphic artists to put computational photography, Artifical Intelligence, and years of photographic skills to work on producing the best quality scans anywhere.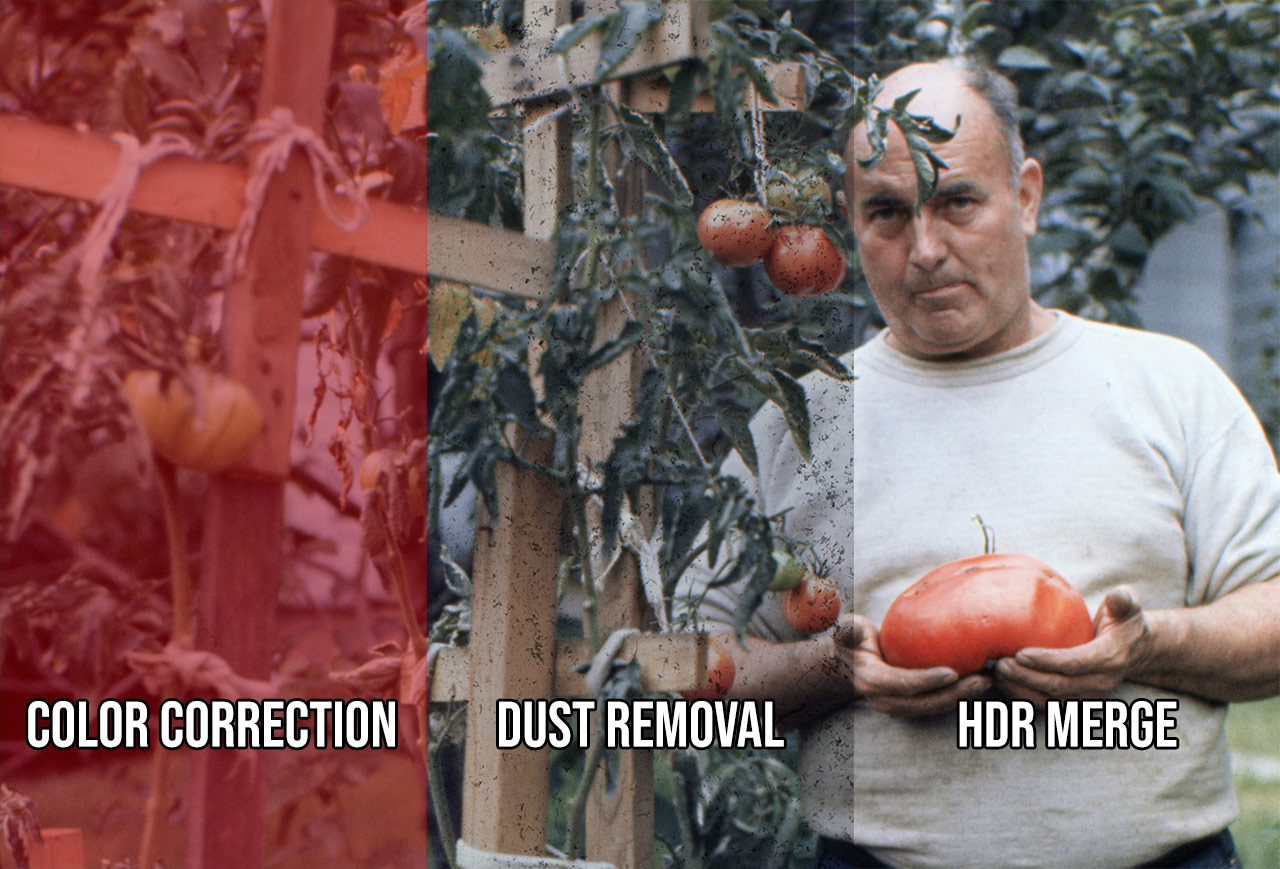 Color Correction
Our exclusive smart scanning technology improves the color correction process and restores the original color while removing most color casts from aging film.
Dust Removal
Dust is an age old menace when it comes to film. Tiny specs look huge once enlarged and editing it out can take hours. Humans can easily see what's dust and what's part of the photo but computers have never been particularly good at it.
Until now...
Recent advances in Artificial Intelligence (AI) opened up an opportunity to help solve the age old dust problem. We built and trained our own AI, which we call DustNet™, to find and remove dust. It's like magic.
HDR Merge
Our scanning technology captures more information from the film allowing us to brighten those dark, under exposed images.
included Features
Industry Leading Technology
Rotation to Proper Orientation
Custom Folder Naming
Quality Review of Every Scan
video transfer

you recently transferred approx. 46 VHS tapes to discs for me. the packaging was excellent and presentation perfect. everything was completed as requested. thanks very much
Best Service Ever

It is rare for me to rate a business as highly as this one. From contact with an actual person to timely emails to the finished product--DigMyPics is the real deal. If you're researching a service such as this, stop now. You won't find a better one.
35 mm to dvd

Excellent result and customer service. This is my second order and I'm going back for more. I tried others a few years ago and was disappointed. 30 year old slide images look like new and brighter with more detail than the original. DigMyPics is the gold standard.
50 + year old 35 mm slides

I had recently discovered my Dad's old slide case with slides that dated from the early 1950's. The images were faded and yellow. Sent them to dig my pics and they restored the images to vivid color and resolution. It didn't seem possible to me but they did it at a reasonable cost. Sharing the CD's and Zip drives with relatives brought back memories for the whole family.
Kodachrome slides

I was so pleasantly surprised or pleased to see the scans of Kodachrome slides taken in the 1970s--1980s. Slides that have been moved, shown countless times in the old way. Thus, dusty, some scratched. But, your job amazingly cleaned and scanned at a resolution that brings them to their original glory. Thank you.
Digitizing slides

I was thrilled to see what was done with my slides. Some were from the early 1950's and were very discolored. The final product well exceeded what I thought could be done. I was also really pleased to be able to download the end product directly.
Slides and movies

I am extremely pleased with digmypics! The five movies from 1946 - 1960s came out really good. The 100+ slides I had them digitalize were much better than I thought they would be. My husband has movies from the same time period. I plan on having digmypics do the work! Job well done! M Mojher
Last film scanning

Everything went fine. Your help on the phone for additional information was great.
Home movies

Just saw all my 8mm movies!! Digmypics did a AWESOME job! Thamk you!!
Beyond Impressed!

I am a happy customer! Their process is effortless, their service is fast and accurate - I'm telling everyone I know - this is the place to have their slides upgraded to digital images.
8mm to DVD

Recently had my 8 mm film transferred to a DVD for my grown children and families to enjoy. Most of the 35 yr old film was transferable. We are now able to access our family memories much easier. It made a nice gift to all.
Awesome service

These folks are friendly, hellpful professionals who did an incredible job on our slides, some of which were damaged. The quality of the scans is amazing. I dont think you could find a better service anywhere!
You will not go wrong

Awesome company. They took 300 of my slides from 40 years ago and transformed them into a wonderful memory via DVD with music. My kids (5)were so excited to go back in time. So happy!!!!
WOW!

This is by far the best scanning company of all of them out there. Be aware that the cheaper competitors send them overseas to have them scanned, I for one did not want my precious memories going out of the country. This company also gives you constant updates as they start to scan, etc. I got my thumb drives and pictures returned within 10 days, great job, great communication, awesome end job! Would highly recommend!!! THANKS digmypics!